African Development Bank Annual Meetings in Lisbon, Portugal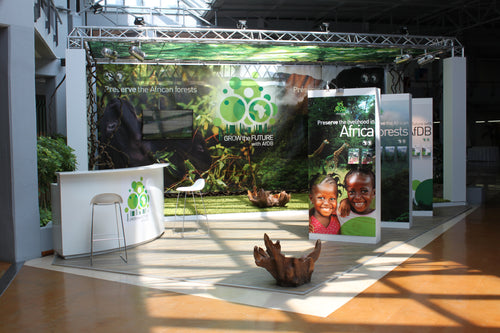 The African Development Bank (AfDB) held the Annual Meetings in Lisbon, Portugal and required an exhibition to demonstrate the green forest and make awareness of the development in many different aspects such as livelihood, forests and projects that AfDB was involved within this regard.
Performance: Design, production, mantling and dismantling.

An "exhibition logo" was presented and approved.
"Grow the Future with AfDB" is a slogan that works on many levels and platforms. It is not only a financial grwth, but also related to the growth of trees. Naturally, the word "growth" relates to development in many aspects of livelihood, gorests and the projects that AfDB is involved in.
The logo involves elements of the theme and was presented at the Lisbon event. It was important to have a clear visual design that showed green environmental aspects as well as the involvement of humans and trees. The logo should represent both Africa and the bank itself.